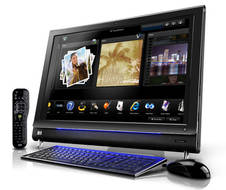 Touch Screen Computers
Fingerprint-scanning, space-saving, touch-integrating - can all these features exist in one computer? Yes, they can - specifically touch screen computers. These computers have been used not only for personal use but also for home automation and better customer service in businesses.
Touch screen computers have been used both in homes and in businesses. If you want to use a touch screen computer in your house, you need three components. First, you need a connection center, which is the hub of the computer system that contains the microprocessor. Second, you need a microprocessor, which controls the electronic devices in your house. Third, you need structured wiring that connects all the electronic systems inside your house. Once you install a touch screen computer, you can use it for your sprinkler system, lighting, voice mail, and security systems. For media lovers, you can use it to play computer games, watch movies, or listen to your digital jukebox.
While touch screen computers have been used in homes, they can also be used in businesses. For instance, restaurant managers use these systems across America. When you order a meal, waiters send that information to the chefs via touch screen computers, the same ones used to tabulate employee hours. Also, doctors use touch screen computers frequently. For example, when operating on a patient, surgeons have touch screen computers that enable them to visualize the procedure and move applications better with a gloved hand than on a standard keyboard.
Although touch screen computers are a relatively new commodity, several notable computer companies offer these to their customers. These companies include HP, Dell, and Sony.
Links
www.hp.com/united-states/campaigns/touchsmart/index.html
With high-definition (HD) capabilities and built-in touchable applications, the HP TouchSmart offers the ideal package for computer users. Further, it has top-of-the-line stereo speakers, a webcam, and microphone, allowing you to video chat with your friends throughout the world. To top it off, its Intel Core 2 Duo processor delivers quality performance, and its wireless keyboard offers easy usability for you.
The Dell E157FPT is a well-built, multi-functional machine. Intended for self-service kiosks and hospitality use, it is equipped with a touch response that reacts to the finger, a gloved hand, or a stylus. Further, its scratch resistance helps it retain clarity and visibility when being used. It also has a knob that allows the user to tilt the computer screen 30 - 90 degrees and a Magnetic Strip Reader for multi-feature usage.
www.sonystyle.com/webapp/wcs/stores
Sony has done it once again with the VAIO L Series touch screen computer. With a 24" screen, Blu-ray capability, 500 GB of memory, and 2.66 GHz, this computer is equipped for both entertainment and functionality. Further, a feature called multi-touch control lets you pinch, twist, and manipulate pictures on your screen. For media users, its HDTV resolution draws you into games and videos as if they were real life.