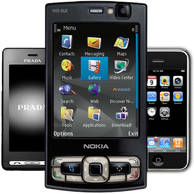 Touch Screen Cell Phones
Due to the grand entrance of 3G technology into the new millennium, touch screen cell phones have attracted many Americans with their quick downloading of applications and increased bandwidth availability. Further, as other phones have begun competing against the iPhone, additional features have been added to touch screen cell phones to increase their attraction to customers. Some of these features include memory card slots, removable battery packs, and voice dialing capabilities. Further, most of these phones are cost-effective, ranging from $100 to $400.
Touch screen cell phones have five different features that attract customers. First, they have specialized touch pressure. For instance, the LG Cookie uses resistive technology that doesn't use glass for its covering. Second, they use widgets. With a touch screen cell phone, these widgets, which include a calendar, organizer, and clock, can easily be moved from place to place on the screen and adjusted accordingly. Third, these phones have a touch and drag capability. For instance, the Motorola Krave has such sensitive touch that you can lightly move applications or scroll down lists inside an application. Fourth, touch screen cell phones have an unusually long battery life. One of these, the Blackberry Storm, has a battery life that can last up to 15 days in Standby mode. Finally, these phones have various messaging capabilities. For text messaging, you can turn them on its side and access the typical QWERTY keyboard setup. For e-mails, you can log onto your e-mail account and use the touch screen to send, forward, or delete e-mails.
While touch screen cell phones have only been around for a few years, several reputable companies have used this technology. These include Verizon, AT&T, and Sprint.
Links
www.in.lge.com/Product/Products-Details.aspx
The LG Cookie is a top-of-the-line phone product. Its touch screen interface lets the user enjoy a plethora of multimedia content. Further, it has an auto rotating display that automatically shifts the picture as you rotate the camera. Also, the Cookie has an individualized handwriting function for messaging and can recognize over 37 languages. To top it off, its motion sensors create a realistic, enjoyable game experience.
www.wireless.att.com/cell-phone-service/cell-phone-details/
The LG VU is a versatile touch screen cell phone used by AT&T. With Bluetooth capabilities and a 3-hour battery life, this phone lasts much longer than a typical cell phone. Further, with a touch screen display size of 3 inches, you can comfortably watch videos or play games online. And with features such as caller ID, a calendar, alarm clock, and personal organizer, this phone is outfitted for any phone lover.
nextelonline.nextel.com/NASApp/onlinestore/en/Action/DisplayPhones
The Treo Preo may be simply designed, but it's also multi-functional too. It has a complete QWERTY keyboard and high resolution, color touch screen. Also, it has voice activated dialing, GPS navigation, and 3G capabilities. As far as its media abilities, you can text, e-mail, surf the web, or shoot pictures with a 2 megapixel camera.