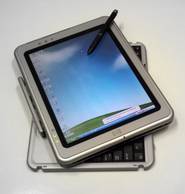 Tablet Laptops
From the business sector to a classroom setting, laptops are widely used, but what about one that has touch screen capabilities and weighs less than a standard laptop? These computers, called tablet laptops, have features that let you carry them around and use them for business or in-class presentations. Further, their increased durability protects them from unexpected accidents or falls.
The tablet laptop has four features that distinguish it from a standard laptop. First, it has a lightweight frame. Most tablet laptops weigh between 3 and 4 pound and are one inch wide. Second, these laptops can swivel for greater usability. For instance, when presenting a project in class, you can twist the laptop screen so that the audience can see your diagrams rather than having to rotate the whole computer itself. Third, tablet laptops are practically scratch-proof. Since computer technicians expect these laptops to be moved around and jostled, they strengthen the screen chemically to ensure its durability. Fourth, these laptops have adept note-taking abilities. For instance, if you're in a class, you can write your teacher's notes on the screen. Also, whether you're a businessman or college student, you can use the laptop to give presentations in class and treat it like a digital blackboard. Further, it has an audio-visual recording feature that lets you record your teacher's lectures.
Because of their portability and note-taking abilities, tablet laptops are used by many computer companies. Some of these companies include Lenovo, Compaq, and Toshiba.
Links
shop.lenovo.com/SEUILibrary/controller/e/web/LenovoPortal/en_US/catalog.workflow:expandcategory
The Lenovo ThinkPad X Series is a quality, multi-functional tablet laptop. With a digitizer pen, touch screen, and advanced multi-touch panel, it offers the ultimate tactile experience. Further, it weighs only 3.5 lbs. and has over 10 hours of battery life. Finally, its dual-swivel hinge and wide-view angles on the screen let you use it for presentations to bosses or teachers.
welcome.hp.com/country/us/en/prodserv/laptops.html
Compaq has produced a tablet laptop called the Compaq Tablet PC TC1000. Less than an inch high and weighing just 4 lbs, this piece of machinery will do the work for you while lightening your load considerably. Further, its 3-year warranty protects you from any possible malfunction or accidental drop that would damage your computer.
laptops.toshiba.com/laptops/portege/M750
Toshiba has produced a versatile, powerful tablet laptop called the Portege M750. With a 160 GB hard drive and Intel Core 2 Duo Processor, this laptop has considerably memory storage and speed too. Also, with Protect and Fix (a shock-absorbing feature) and PC Health Monitor (gauges laptop temperature, fan speed, battery condition), this laptop is guaranteed protection in the event of an accident.