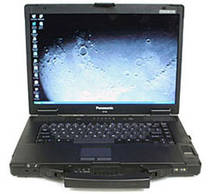 Panasonic Toughbook 52
Some of us use their touch screen laptops in very difficult conditions and therefore need an extremely resistant one. Don't know what to choose? Don't worry, you don't have too many options because when it comes to super resistant laptops Panasonic does not have any competition.

If you want a really tough laptop, don't expect it to be very good looking. Some compromises had to be made and the Panasonic Toughbook 52 cannot impress anyone with its design. However, you won't find in any other laptop the solidity of its chassis made out of magnesium alloy. Everything is spill resistant at this laptop and we reckon that you won't have any problems with its reliability indifferent of the conditions you are going to use it.

Panasonic claims that the Toughbook 52 brings the power and performances of a desktop computer in to a laptop. You can configure it to come with the new Intel Core i5 540M processor clocked at 2.53 GHz, up to 8 GB of DDR3 RAM and a resistant 250 GB SATA hard disk drive. Optionally, you can get a dedicated video card powered by an ATI Mobility Radeon chipset.

The 15.4 inches WUXGA display fitted on the Panasonic Toughbook 52 is impressive because it is visible in just about any light conditions, an essential thing for a laptop destined for outside use. Overall, this model is absolutely impressive, but it is not destined for a wide range of customers and unfortunately the price will keep many away from it.