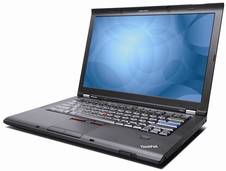 Lenovo ThinkPad T400s
A lot of persons still don't have the courage to try a touch screen laptop, thinking that the advantages it brings simply don't justify the much bigger price that has to be paid for it. But the latest models of touch screen laptops have brought much improved functionality, taking a huge leap forward in making them more popular.

The new Lenovo ThinkPad T400s currently is, at least in our opinion, one of the best choices you can make if you are planning to purchase a new touch screen laptop. First of all, we have to tell you that it looks extremely sober, just like any other model from the ThinkPad family. However, it maintains Lenovo's tradition in this domain and offers a sensational construction quality that without doubt is the best on the market at the moment.

Also, when it comes to processing power and performance, the ThinkPad T400s is situated at the highest standards. Powered by the excellent Intel Core 2 Duo T9600 processor clocked at 2.5 GHz, it also comes with 4 GB of DDR2 RAM and an impressive 128 GB SSD drive. And helped by this configuration this Lenovo touch screen laptop is among the fastest models in this category.

The touch screen display of the Lenovo ThinkPad T400s is great and everyone can use it without too much trouble. However, we would have appreciated the presence of a pen in order to get rid of the abundance of fingerprints. So if you are ready to spend around 2400 dollars on a touch screen laptop, go for the ThinkPad T400s.