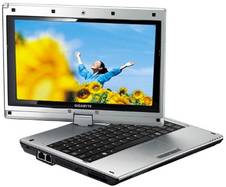 Gigabyte M912M
If you're on the market for a notebook that you can use your finger to control you may want to check out the MN12M. Gigabyte's M912M touchscreen convertible netbook is a very efficient, fun to use machine.
This unit is powered by an Intel Atom processor clocked at 1.6.GHz and also comes equipped with 1GB RAM. Storage is handled by a 160 GB hard drive running at 5,400rpm. The 8.9" LED-backlit screen supports a 1024X600 pixel resolution that makes for bright contrast and good colours. The high-speed 160GB SATA drive makes this laptop very easy to use.
This model comes with a small keyboard with flexfree, solid keys and a good quality touchpad. The touch screen is very accurate and efficient. In terms of battery life, the M912M features a 6-Cell battery that offers nearly 3 hours runtime with Wifi on. Connectivity options include: Bluetooth v2.1, Wi-Fi, and HSDPA.
One of the most talked about downsides of the M912M is probably the weighting - a relatively heavy 1.35KG, but this seems to be an issue with most small laptops. Priced somewhere round $ 800 the Gigabyte M912M is one of the best touchscreen laptops on today's market.
If you're always on the go and need a laptop that can offer flexibility onboard, the Gigabyte M912M might be just what you are looking for.