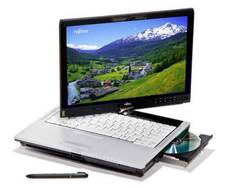 Fujitsu LifeBook T5010
In case you are searching the market for one of the best touch screen laptops, we have a suggestion for you. Although it is not one of the latest models from this domain, the Fujitsu LifeBook T5010 can still represent a great choice for the ones that need a touch screen laptop without huge processing power and at a reasonable price.

On the outside the LifeBook T5010 looks rather like a classic model and for the ones in search for a sober design this may be a very pleasant aspect. The quality of the materials that were used for constructing this touch screen model is above average and its chassis is among the best in the class. And definitely one of the best things this model has to offer is the 13.3 inches display that is capable of a 1280 x 800 pixels resolution along with very sharp images and vivid colors.

The LifeBook T5010 is not a model dedicated to the ones looking for the ultimate performances, but it is not bad either. Equipped with an Intel Core 2 Duo P8600 processor running at 2.4 GHz, 2 GB of DDR2 RAM and a 5400 rpm hard drive with a capacity of 160 GB, it is capable of running the most common applications without any problems.

The touch screen display is very responsive and you will learn how to get along with it in no time. This, added to the fact that it comes with a solid construction makes the Fujitsu LifeBook T5010 one of the best choices you can make if you want a new touch screen laptop.