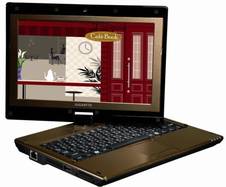 Companies That Make Touch Screen Laptops
When considering purchasing a touch screen laptop, it is important to know your main purpose for its usage: business or pleasure. There are two main types of touch screen laptops: the notebook and the tablet. The touch screen notebook is smaller than a traditional laptop; it is, essentially, the size of a notebook. The touch screen tablet is a laptop with a twist…literally. The screen can be rotated 180 degrees and sometimes even 360 degrees allowing you to write directly on the screen with a finger or an included stylus. If you tend to do mostly writing and note taking, the tablet is for you. If you spend more time surfing the web or browsing photos and graphics, the notebook is for you. Either way, there are several reputable companies that offer touch screen laptops to meet your specific needs.
Lenovo carries both a tablet and a notebook for you to compare. You can choose between the ThinkPad X200 Tablet and the ThinkPad T400 Laptop. Both of these laptops offer the exciting Simple Tap application. Toshiba carries the Satellite U505 touch; this laptop is a multi touch screen. The Satellite U505 offers Bulletin Board and Reel Time: two interactive, organizational tools. Dell offers the Latitude XT2 XFR, and with it came the first use of n-trig, a multi touch digitizer that is now seen in other laptops. Panasonic gives us the already well-known Toughbook, now equipped with touch screen capabilities. Fujitsu carries the LifeBook 6110D, which is a sturdy, yet lightweight option when considering a touch screen laptop. If size is an issue for you, the Asus EEE T91 is a mini netbook whose touch screen measures in at only 9 inches. Review the links below as you continue your search for the company that offers the best touch screen laptop to meet your needs.
Links
www.informationweek.com/news/hardware/desktop/showArticle.jhtml
Lenovo offers two options for your touch screen enjoyment, and both make use of the Simple Tap application. The first is the X200 Tablet, which uses a two finger touch. This allows you to move, zoom, and browse with the touch of your two fingers. The T400 laptop allows you to use four fingers: or, essentially, two hands: to collaborate on a project or presentation.
www.panasonic.com/business/toughbook/business-rugged-laptop-toughbook-T8.asp
Panasonic's Toughbook has been on the market for a few years already and has gained necessary credibility. The already reliable Toughbook is now offered with touch screen capabilities. It is enclosed in a magnesium alloy case, making it virtually damage proof. Its claim is that it "combines light weight and durability." Hard not to agree: it's a great product for the mobile businessman.
mobileoffice.about.com/od/laptoptabletpcreviews/gr/fujitsub6110d.htm
The LifeBook 6110 D from Fujitsu is a terrific choice for frequent travelers because of its small size and light weight. Optional security measures give additional credibility to this touch screen laptop. Also, it is easy to manage more than one web page at a time on the touch screen; you can easily maneuver around using the stylus. One con is that it does not have an optical drive. An external drive can be used, but there is not one included within the mainframe.
www.hp.com/united-states/campaigns/touchsmart/
HP's TouchSmart TX2 was the first multi touch screen tablet laptop. Its screen rotates to flip into tablet mode so that you can write, take notes, or generate ideas using your finger or the included stylus to record your thoughts as you go. It also utilizes VISION technology to enhance what you view, create, and share. Be sure to view the demo; HP's slogan "The Computer is Personal Again" definitely rings true!
reviews.cnet.com/laptops/asus-eee-pc-t91/4505-3121_7-33721154.html
The Asus EEE T91 is a mini netbook, and, as a touch screen netbook, it is the first of its kind. It blends the convenience of a small laptop with the ease of navigation normally found only on a larger laptop. It also offers a "custom touch interface" with larger than average icons that make navigation even easier. It also carries with it a smaller, much more affordable price tag.