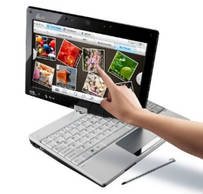 Best Touchscreen Laptops
Some may be asking themselves, "What is the big deal with touchscreen laptops?" The funny thing is, though, that you have already seen the big deal" with touchscreen computers if you have ever used a kiosk in an airport, a self-serve shopping lane, or a gift registry in a large retail store such as Wal-Mart or Kohl's. They offer convenience and speed in entering information and making selections. With the introduction of Windows 7, that same convenience and speed is offered to you in a laptop that you can use on an everyday basis!
The touchscreen laptop offers so much more than just convenience and speed. Take the freedom you already feel by owning a laptop that you can carry with you at all times and combine it with the ability to browse through pictures and videos with the touch of a finger! Most touchscreen laptops are also equipped with the ability of becoming a tablet on which you can write with a stylus or your finger. Note taking, sketching, and designing are much easier when you are able to sketch free hand and save it to your hard drive for editing later. This saves you time and allows you to keep those creative "juices" flowing! Usually touchscreen laptops are equipped with a 4 or 6 cell battery, meaning that you can click, drag, zoom, and browse all day without having to be plugged in to a power source. As if all these perks weren't enough, most touchscreen laptops are energy efficient, too.
Although the touchscreen laptop is a relatively new concept, there are some reputable companies that produce them. For example, Panasonic, HP, Dell, Lenovo, and Toshiba all offer a touchscreen laptop.
Links
www.panasonic.com/business/toughbook/semi-rugged-computers.asp
One of the best features about this award-winning laptop is its durability. The entire rugged line varies in the amount of durability offered, depending on your needs. For instance, the fully rugged laptop is equipped to be used in adverse weather or circumstances, often used by our Armed Forces in Iraq and Afghanistan. If you don't need something that extreme, try the business rugged or the semi-rugged, as linked above. This laptop offers a 13.3" anti-glare touchscreen that is readable in the daylight, as well as a spill-resistant keyboard and a metal case encapsulating the laptop to protect the businessman on the move.
www.hp.com/united-states/campaigns/touchsmart/
This touchscreen laptop is phenomenal! Its claim is "thin, mobile convenience." The TouchSmart TX 2 is lightweight and extremely versatile. It carries with it the ability to browse and edit photos with a one or two finger touch. The user is able to turn the touchscreen 180 degrees for easier viewing of videos or presentations. The screen also becomes a tablet on which you can write or draw with your finger or a stylus. Be sure to view the demo; it is especially impressive!
www.dell.com/business/laptops=
This website is confusing to navigate through. Dell's touchscreen laptop to consider is the Latitude XT 2, and it is found on page 4 of the laptops. It is equipped with the multi-touch screen that enables you to get a closer look at emails, maps, and web pages. The user is able to use the touch screen or the keyboard to conduct business, and the screen can be used in tablet mode and be directly written on with a stylus. The complaints for this laptop are that the processor is slow (be sure to purchase the laptop with at least a 1.4) and the screen only rotates in one direction. The pros for this laptop are the sleek design and the sturdy hard drive components that are able to withstand the bumps of everyday travel.
shop.lenovo.com/SEUILibrary/controller/e/web/LenovoPortal/en_US/catalog.workflow:category.details
With the claim that it goes "from the classroom to the boardroom," this laptop is lightweight and easy to use. It includes a full keyboard for typing and a rotating screen that can be a touchscreen or can be written on directly with a finger or its digitizer pen. The ThinkPad X tablet has an ActiveRotate feature that automatically changes the orientation of the information on the screen when it senses the computer is being turned. One con of this laptop is that the shape does not lend itself to fitting in all briefcases.
laptops.toshiba.com/laptops/satellite-pro/U500
The Toshiba Satellite Pro U500 is a great choice when making a decision on a touchscreen laptop. It has your basic touchscreen and tablet capabilities, and it also includes some desirable extras. One of these extras is ReelTime, which allows you to access the most recent files without having to hunt through all your folders; another extra is the Bulletin Board, which helps keep you organized. Another great feature of this laptop is its ability to charge USB devices such as iPods and Smart Phones-this can happen even while the computer is sleeping. There is also extra data protection with the Hard Drive Impact Sensor.