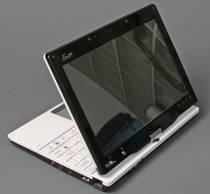 Asus Eee PC T91
Touchscreen laptops are really starting to gain in popularity these days. If you're interested in purchasing a touch screen laptop, there are plenty of offers out there. Asus is one of the companies that has managed to combine a touch screen and a Netbook in one machine, and they are doing a remarkable job.

The Eee PC T91 is ASUS' first full touchscreen tablet netbook and a pretty impressive machine. The T91 comes equipped with 802.11n, Bluetooth 2.1+EDR, and 10/100Mbps Ethernet. This unit is powered by an Intel Atom Z520 CPU running at 1.33GHz, and also boasts 16 GB SSD, and 1GB of RAM. Graphics are handled by an Intel GMA500 graphics.

This model sports a rotating display that can be spun 180 degrees and folded down. Built around a 9" screen, the T91 features a small keyboard, very comfortable to type on. The 15-inch system measures a backpack-friendly of only 8.9 x 6.5 x 1.1 and weighs just over 2 pounds.

The 8.9" wide-screen LED display provides a standard native resolution of 1,024x600 pixels. The T91 comes preloaded with Windows XP Home Edition.

In terms of battery life, the lithium polymer battery can offer up to 5 hours of runtime. With a reasonable price tag of $ 499 the Eee PC T91 is definitely worth a look.